HOW TO FIND THE FREE MANIFESTA HEADQUARTERS



The FREE MANIFESTA HEADQUARTERS is located on the ground floor of the Frankfurter Kunstverein, at Römerberg near the Schirn Kunsthalle. Subway stop Römer. It will be open daily 11 AM to 7PM. I will be in Frankfurt from May 12 - July 30, and will be keeping office hours most afternoons. SEE MAP

There is no charge for admission to the Free Manifesta area (no Manifesta 4 ticket required).

Please stop by to pick up information and free art, and have some coffee with me.








MAP OF FREE MANIFESTA HEADQUARTERS

Seen in relation to nearby Manifesta 4 sites Portikus Kunsthalle and Frankensteiner Hof. For additional Manifesta 4 venues and information visit MANIFESTA 4





CLICK FOR LARGER MAP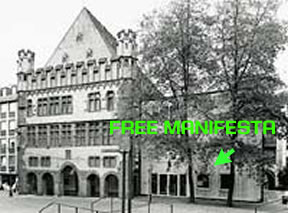 FRANKFURTER KUNSTVEREIN BUILDING


MAILING ADDRESS

(& STREET ADDRESS)

FREE MANIFESTA
c/o Frankfurter Kunstverein
Steinernes Haus am Römerberg
Markt 44
60311 Frankfurt am Main